At 35 years old, playing for AZ, this man is proving the Dutch footballworld he deserves a spot in the national team. Way before Sneijder and VDV may I add. He's collected more cards than he scored goals in his career, and that's something, because he's scored more than 70 in his career. I just want to ask van Basten what he thinks of this gem I just discovered.
During his days at Roda, the Huub Stevens era, he got a selection. The problem with van Galen is/was, that he's very attached to Holland and the camping he goes on holiday to every year. Before his breakthrough at 21 he was a window- cleaner.
When he played for Roda in the mid 90's, Roda ended second in the league with a point total that would have made them champions in every other season. It was just that Ajax almost won every game that year. Van Galen had a brilliant year, but sometimes he got into an argument with his coach. I remember one time his coach told him to get up there and perform to which van Galen replied: 'I don't give a damn, if I don't feel happy here I'll easily go back to my job as a window cleaner.' (in Dutch ofcourse, don't you think it would be weird if he'd said that line in English? Come on people, focus) This was at the time the Bosman - trial was and people here were pretty convinced van Galen would go abroad, because he played so damn well.
I tell you this to show the man is not in it for the money, he just loves the game and he wants to feel happy. Right now he can go to his favorite camping every year, he lives near his friends, he still spends a lot of time in the hood he was born and he's very happy at where he is now.
One thing has always overshadowed the career of van Galen. During a fanatic heading duel with former player Richard Stricker of Telstar, Stricker got injured that bad, his life was in danger for a while. The Dutch press jumped on the bandwagon and van Galen was showed as some kind of murderer. This has always been the case for van Galen. He has his dirty tricks and he'll always receive yellow and red cards, but I see a genious play every week and he deserves a spot in the national team, although he's 35.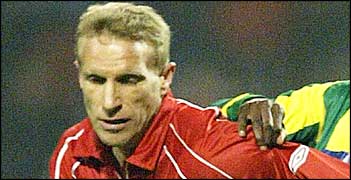 The Dutch and maybe the Belgian members know him and I think they'll agree with me when I say 'This man should have played 75 caps already'
He's better than Sneijder, VDV, van Persie and all the young wannabes.No one and I repeat no one will ever have the magic left foot of Barry van Galen. Right after Marco van Basten my all time favorite Dutch player. Imagine how happy I'd be if my fav player would choose my second fav player for the Dutch team!!
Barry van Galen, I salute you

Referee (L) van Galen (R)
Last edited: